Introducing
t4 Underground
tm
Municipal Sewer Management Software
Are you still putting out 'fires' after they start because you lack information about your assets? Now you can have the data you need to proactively target sewer maintenance activities and get a handle on problems before they surface.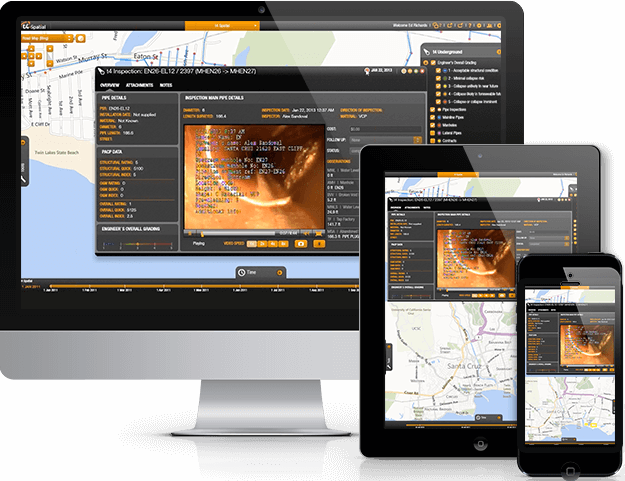 Underground helps you make better decisions.
See t4 Underground In Action
These four videos (around 2 minutes each) will give you a quick introduction to how t4 Underground works.
"t4 Vault allows the sanitation districts to store it's sewer inspection videos on the cloud, and allows us to reduce our in-house storage, and also provides easy access for districts personnel as well as contractors to retrieve the data and inspect the videos."
– Darrell Hatch – Sanitation Districts of Los Angeles County.
Discover how t4 Underground can help your municipality
t4 Underground Pricing
Configured for each municipality
A subscription to t4 Underground is priced by mile of sewer pipeline and includes unlimited video storage of pipeline inspection video data and unlimited users within your organization.
We realize that municipalities come in a variety of different sizes and with unique needs. That's why t4 Underground's pricing varies according to the municipality. We have pricing for small systems, large systems, and many levels in between.
Please request a demo or call us at 805-309-0310 to learn more!
Underground
Pricing Varies
Unlimited video storage
Unlimited users
Priced by mile of sewer assets
By 2020, the average age of the 1.6 million miles of water and sewer pipes in the United States will hit 45 years.
Your municipality's pipes are getting older and the need to keep your sewer rehabilitation program organized and efficient is at an all time high. t4 Underground can help you stay on top of the increased workload ahead.