As more and more municipalities throughout Western Pennsylvania work toward complying with EPA consent orders, the need for implementing an operation and maintenance plan has become crucial. A big part of these guidelines require regular televised footage of wastewater systems. On average, municipalities are recording ten percent of their systems per year over the course of ten years to then have a complete baseline reading.
Latrobe, Pennsylvania-based Gibson-Thomas Engineering advises municipalities throughout Pennsylvania on these EPA requirements. Ross Township, a suburban community adjacent to the northern border of the city of Pittsburgh, is one of their clients with whom they've worked to streamline their approach to storing footage.
"Ross Township televises 65,000 to 75,000 per year," says Travis Stanczyk, Project Manager/Engineer for Gibson-Thomas Engineering. "They needed a good way to manage that large amount of data. It was important that we could all easily access footage. t4 Spatial's Vault product checked all of the boxes."
By sending wheel-mounted CCTV closed-captioning cameras through pipe segments, information is documented for future reference. Everything from location to defects to material type is recorded based on NASSCO standards. t4 Vault allows this footage to easily be uploaded to a cloud-based platform that automatically organizes, stores and presents sewer inspection data in a shareable format.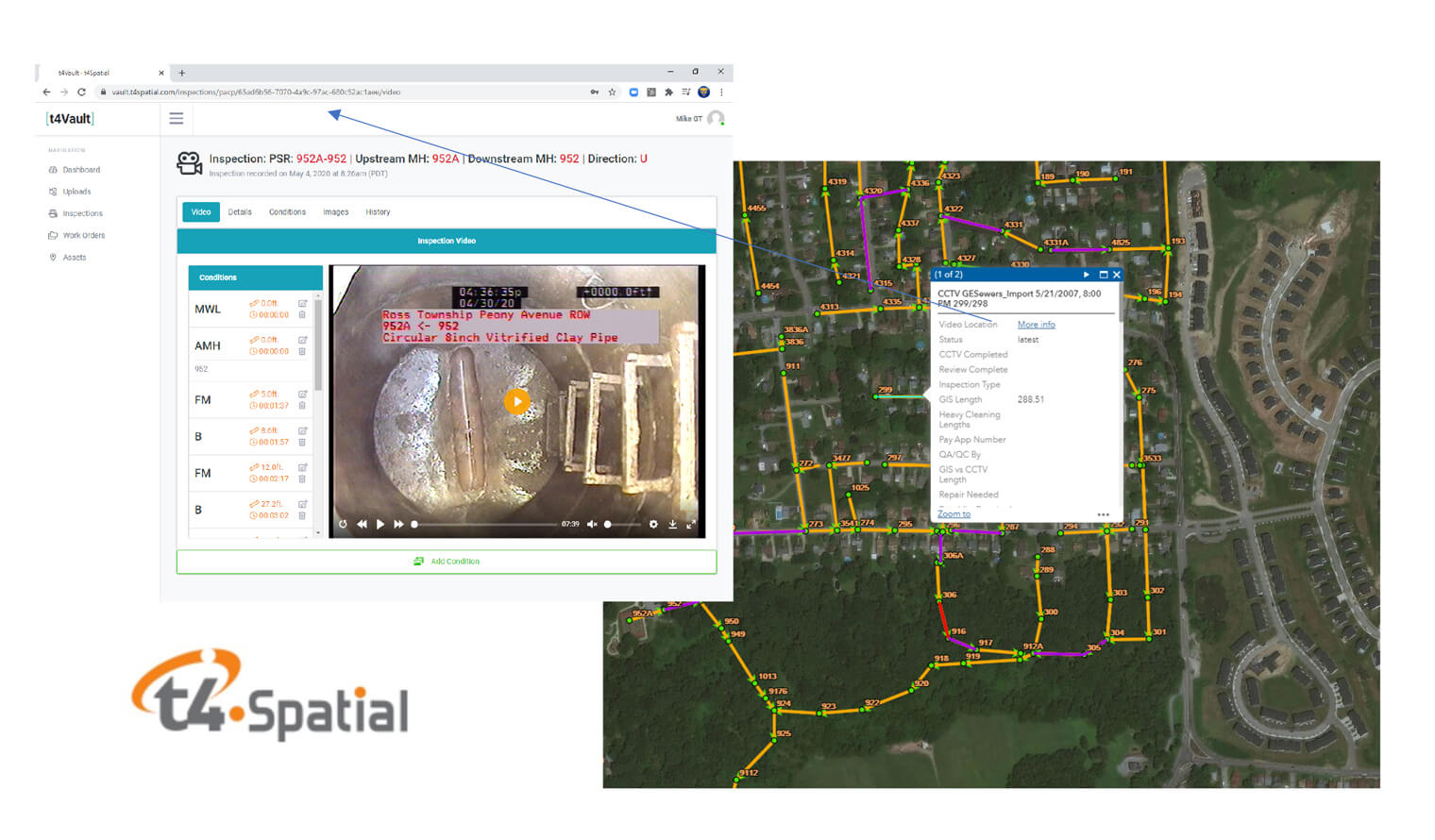 "One of the issues I've run into over the years is that once televising is completed by the contractor, we realize after the fact that that may have coded the defects incorrectly," says Stanczyk. "t4 Vault allows those codes to be edited in the office and automatically updates them within the database. That has taken a difficult problem engineers have experienced for years and simplified it."
In addition to ease of use and code editing, t4 Vault has shifted a historically cumbersome sorting of maps, flash drives and inefficient back and forth to an entirely cloud-based, mobile experience.
"t4 Vault has really improved the televising and data management process," says Matt Sprung, GIS Manager for Gibson-Thomas Engineering. "Being able to access footage via mobile has shifted everything from being locked to a desk to being in the field. Everything is real-time, which has made communication with our clients so much easier. We can all pin-point and view issues immediately no matter where we are."
t4 Vault is being discovered by clients all across the country for its problem-solving approach to data management. As simple as dragging and dropping files of any format into the app, t4 Vault gives instant access and detailed reporting.
"Our clients find it really easy to use," says Sprung. "In the end, the accessibility that t4 Vault allows ends up saving these municipalities time and money with their workforce."
Phone: +1 805-921-3000
Support: support@t4spatial.com

Sales: mthompson@t4spatial.com